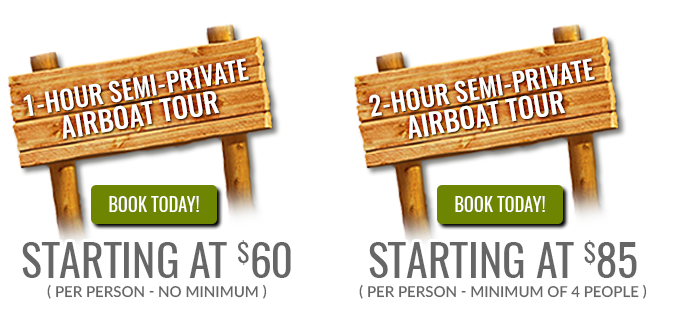 Located on the Miccosukee Indian Reservation in Miami, Florida. Airboat tours are 1 hour long, and cost $60 per person.
Our airboats run from 9:00 a.m. until 5:00 p.m.
Pricing & Times:
Most Popular Semi-Private Ride:
1-Hour Semi-Private Tour – $60 per person
FREE for children 6 and under
2-Hour Semi-Private Tour – $85 per person
*Minimum of 4 people
AIRBOAT TOURS DEPART EVERY 30 MINUTES
ADDITIONAL INFORMATION
During our Miami airboat tour, we make a stop at our family island, where we get off the boat and experience the wildlife of the Florida Everglades in its natural habitat! Enjoy a gator show where you can also carry baby gators and pose for remarkable pictures while our captain tells you all about the history of the Everglades. Our semi-private airboat rides out of Miami are just as beautiful as they are unforgettable. Experience the ride of your life. If you are looking for a more intimate experience, we also offer private Everglades airboat tours that leave out of Fort Lauderdale. Our captain is fluent in both English and Spanish.
Location: Ride the Wind Miami via Google Maps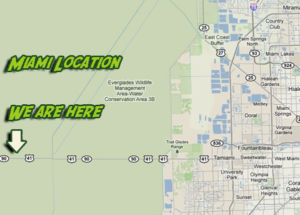 (Miami Shark Valley will be on the left-hand side of the road; We will be on the right-hand side of the road alongside TigerTail Airboats.)
About Our Semi-Private Everglades Tour in Miami
When it comes to touring the Florida Everglades, nothing beats our private tour opportunity that takes off out of Fort Lauderdale. However, for those looking for an experience that feels a little less personal than a fully private tour, we offer semi-private tours of the Everglades that take off out of Miami.
Starting at just $85 per person, our semi-private Miami Everglades tour allows individuals and couples to experience the Everglades in a whole new way! Even though our Miami Everglades tour is semi-private, riders are still able to enjoy riding on our airboats with only a handful of other individuals. During this tour, you and the others will be able to get up close and personal with some of the amazing animals in the Everglades, including the famous Florida alligators, that call these waters their home.
The overall Miami tour lasts two hours, where you will be able to take plenty of pictures and learn a lot about the Everglades from our experienced airboat pilots.