Book Your Reservations Today with Ride the Wind for your Everglades tour Fort Lauderdale!
Everglades Tour Fort Lauderdale Times & Pricing
Start Times: 9am., 11:00am, 1pm, 3pm, 5pm

OPEN ON ALL HOLIDAYS!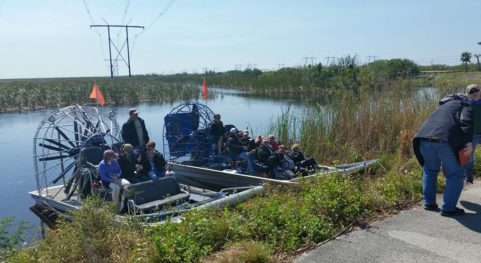 *RESERVATIONS ARE REQUIRED
A beautiful, guided Everglades tour Fort Lauderdale is a truly unforgettable experience.
Lots of gators, birds, turtles, camps with over 200 years of history, AND you get to DRIVE the AIRBOAT. Bring a cooler if you want to! Snacks, soda, water, and adult drinks are welcome.
Welcome to a treasured private airboat ride in Fort Lauderdale!
Pricing:
1 Hour Private Ride up to 4 people – $250
2 Hour Private Ride up to 4 people – $475
3 Hour Private Ride up to 4 people –  $600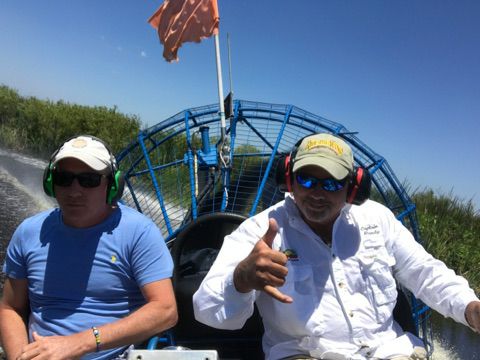 All Rides
$50 for each additional aged adult 13 and older;
$25 for each additional child aged 7-12
(6 and under are FREE!)
Call Now: 305-299-1366
E-mail: randy@ride-the-wind.com
Google Map via GPS Coordinates
Find Us Here
Be the Co-pilot and drive our Ride the Wind dual control airboat on our private airboat rides and alligator tour Fort Lauderdale, Fl.
Location of Our Private Airboat Tours:
We are 3 miles past this address 1006 North US HWY 27 Weston. We are @ Mile Marker 38.5 Just 1/2 mile past mile marker 38 on the RIGHT.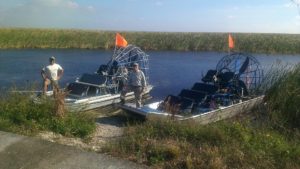 More Info:
Are you looking for a Florida Everglades Tour near Fort Lauderdale? At Ride the Wind we have been providing residents and tourists with private Fort Lauderdale airboat rides for decades and have earned the reputation for being the best Everglades airboat tours in Fort Lauderdale, Florida.
At Ride the Wind we treat each one of our private Fort Lauderdale Everglades tours as a unique experience. Since all of our Fort Lauderdale airboat tours are completely private, we cater to what you and your family/friends want to experience. If you are looking to get up close and personal with some of the Florida Everglades residents (we are talking about the Florida Alligators of course!) you will see plenty of them, as well as the other beautiful creatures and birds that call the Florida Everglades home.
You Can Be the Pilot During Our Fort Lauderdale Airboat Rides
Beyond just seeing the beautiful creatures on our private Fort Lauderdale airboat rides you will also have a truly unforgettable experience as you take over the controls of one of our private airboat charter boats! Getting behind the controls of these beautiful airboats takes your Ft. Lauderdale Everglades tour to a whole different level! Captain Randy, the fearless leader at Ride the Wind, will teach you how to pilot these beautiful boats and let you get the full experience, just like you were actually "riding the wind" as you cruise for miles across the Florida Everglades!
Unlike other basic Fort Lauderdale Everglades airboat tours, the private Ft. Lauderdale airboat tours at Ride the Wind can go from 1 to 3 hours and take you to places no one else knows of in the middle of the Florida Everglades. Besides cruising around, our private Everglades tours from Fort Lauderdale will consist of a pit stop or two at some remarkable camps built deep inside the Everglades. Here you can take a break, eat something, barbecue and truly feel as one with the Florida Everglades and nature.
Benefit to Our Private Ft. Lauderdale Everglades Tour
Since our Ft. Lauderdale airboat rides are completely private you will never need to worry about other tourists, who are strangers to you, interrupting yours once in a lifetime experience. Here you will be accompanied by one of Ride the Wind's senior licensed Ft. Lauderdale Everglades pilots and your closest friends or family. Looking for a romantic day out with your significant other? Our private Ft. Lauderdale Everglades tour is a perfect experience for couples!
---